Exercise RIMPACEdit
Hosted by the US, exercise RIMPAC (for Rim of the Pacific) is one of the largest regular naval focussed exercises in the world. Whilst hosted by the US and centred around the Hawaiian area, Australia is and has been for a many decades, a major particpant.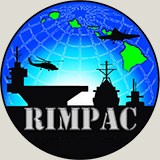 The exercise is biennial, that is it is hosted once every two years. The first event took place in 1971 and has taken place every second year since.
The exercise revolves around the theme "Capable, Adaptive, Partners" and is meant to develop interoperarbilityy to the navies and forces of the Pacific region. This includes aircraft interchange between different navies vessels, submarine exercises, vessel interception and boarding exercises, amphibious landings, ground security, aviation support, maritime patrol, and other activities all with combined interoperability aspects.
ParticipantsEdit
The particpants regularly have changed over the years, with some countries being guaranteed regulars and others particpating at different times for different reasons, The US, specifically the US Navy Pacific Fleet is always the host of the exercise.
Regular Particpant Countries
Edit
United States
Australia
New Zealand
Canada
United Kingdom
South Korea
Japan
Malaysia
Singapore
France
Chile
Peru
Observer and Occasional Particpant Countries
Edit
Thailand
Russia
India
Colombia
Mexico
Netherlands
Norway
Philippines
Tonga
Since the uprising of 2025 In donesia's particpation has been suspended.