Operation GatewayEdit
Operation Gateway is an ongoing Australian Defence Force operation in the Northern Indian Ocean, Malacca Strait rhough to the South China Sea. The operation has it's roots in the Cold War when it was primarily all about tracking Soviet Submarines in the area. The operation involves Royal Australian Navy ships, aircrafts and systems, Royal Australian Air Force units, Australian Army units and elements of the Australian Customs and Border Protection Service.
The operation is called Operation Gateway as the geographic area of operations is considered to be the strategic gateway to Australia, particularly the Western side of Australia.
Today the mission of Operation Gateway covers several equally important areas;
General Maritime Tracking and Surveillance
Submarine Tracking and Surveillance
Aerial Tracking and Surveillance

These missions function in the following functions
Counter Piracy
Counter Terrorism
Counter Smuggling (drugs/people/goods/etc)
Area of OperationsEdit
Operation Gateway technically covers a significant area within the operations area of Joint Operations Command - Regional Theatre. This area includes areas of the Indian Ocean bordering India, Sri Lanka, Bangladesh and Myanmar (Burma), the strategically significant Malacca Strait and the surrounding areas bordering Indonesia, Malaysia, Brunei and Singapore, and the South China Sea bordering Southern China including Hong Kong, Macau and Taiwan, the Philippines, Vietnam, Cambodia, Laos and Thailand.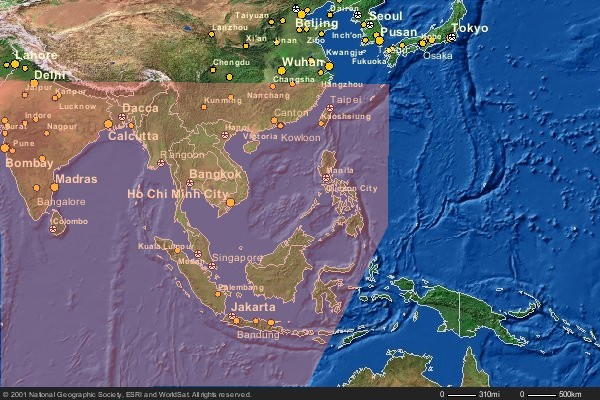 Bases and UnitsEdit
RAAF Base Cocos Islands, RAAF Base Butterworth and RAAF Base Udon all serve as primary staging areas for the air elements of the surveilance patrols of Operation Gateway. Bases in the Philippines, SIngapore, India, Bangladesh and Brunei