Semi Submersible Combatant Craft (SSCC)Edit
The Semi Submersible Combatant Craft is a class of two special operations vehicles designed for covert and clandestine infiltration and extraction of SCUBA equipped special force operators. There are two models in the class, the three man Semi Submersible COmbatant Craft - Small (SSCC-S) and the ten man Semi-Submersible Combatant Craft - Medium (SSCC-M). The vessels are designed to either operate at high speed on the surface when making the transit to and from the operations area, and to operate just below the surface, with the onboad divers utilising SCUBA for breathing, when inside their operations zone.
Semi Submersible Combatant Craft - SmallEdit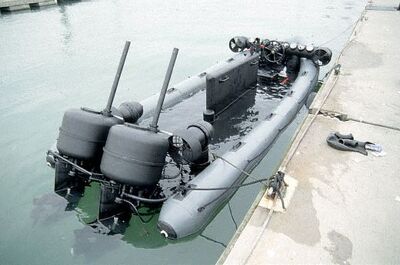 The SSCC-Small is the three man variant of the semi submersible type of special operations craft. The vessel operator sits in the front behind a conventional steering wheel type arrangement, and two divers are positioned behind with a storage area in the centre for storage of extra SCUBA tanks. On the surface two xxxHp outboards can drive the vessel at over 20 knots. The outboards are sealed and fitted with snorkels allowing them to operate below the surface.When fully submerged, four electric motors take over propulsion, two in the front and two in the rear. Underwater speed in 10 knots.

The inflatable collar around the hull of the vessel is partly deflated and special chambers are flooded with water when the vessel needs to be submerged.
Semi Submersible Combatant Craft - MediumEdit
The larger variant of the SSCC can carry ten operators. It has two xxxHp diesel inboard engines fitted with snorkels and special jet propulsion units. On the surface the vessel can do over 30 knots. Like it's smaller brother the snorkels allow the engines to operate just below the surface.
When fully submerged, there are six electric propulsion units, four forward and two at the rear. As with the smaller version whilst underwater the embarked operators use SCUBA equipment to breathe. Also, as with the smaller version, and inflatable collar around the hull is able to be deflated and other compartments flooded to facilitate the under sea operation. Underwater speed is 12 knots.
OperatorsEdit
The primary operator of the SSWC class of vessels is the 1st Special Boat Squadron (Marine Commando) of the 5th Commando Brigade (Marine Commando). The vessels are also found in the Special Delivery Teams of Naval Special Warfare Command.